Dog GONE
Dog Gone is heard on each of our stations daily. When we receive an announcement, we air it for at least 10 days before discarding it. If your animal is lost or found within that time period, please let us know, so we will discontinue airing the announcement. Click HERE to submit an announcement. If your animal has been found, please contact us at (918) 336-1001 or email sharon@bartlesvilleradio.com as soon as possible so we can remove it from our list. We retain the right to edit any postings.
Here are links to local websites: Washington County SPCA www.wcspca.org and ARF www.arfok.org
Cat - Found
Species: Cat
Sex: Female
Collar: No
Color: Calico with white paws
Breed: Calico Cat
Area Found: W. of Hwy. 123 near Research Center at Osage Stabl
Contact: n/a
Phone: 918-327-9818
Email: amity@bartlesvilleradio.com
Date: 2018-04-22
Time: noon
FOUND: Female Calico Cat with white paws. Has no tail. No collar. Seems to be an inside cat.
Lost
Species: Dog
Sex: Male
Collar: Yes
Color: merle
Breed: Blue Healer
Area Lost: Tuxedo and Highway 75
Contact: Chris
Phone: 918-214-6545
Date: 2018-04-17
Time: afternoon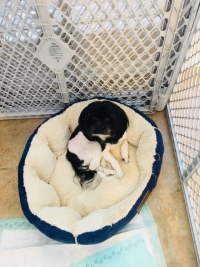 Cookie - Lost
Species: Dog
Sex: Female
Collar: No
Color: Black and white
Breed: Malshee (Maltese Shihtzu mix)
Area Lost: Bartlesville Madison blvd
Contact: David chavali
Phone: 918-766-5854
Email: chavali2662@gmail.com
Date: 2018-04-14
Time: morning
Small 5lb Maltese shihtzu mix ... responds to cookie Lost near Taylor dr off of Madison Blvd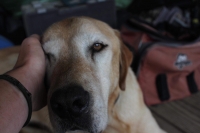 Ballloo - Lost
Species: Dog
Sex: Male
Collar: Yes
Color: Tan
Breed: Lab
Area Lost: Hogshooter east of New Harmony church
Contact: Debbie Veit
Phone: 918-671-6564
Email: Veitpowerhouse@gmail.com
Date: 2018-04-01
Time: Easter Sunday
He is a golden lab that is super friendly. His left shoulder is hurting and has been without his meds since Easter.
n/a - Lost
Species: Dog
Sex: Male
Collar: Yes
Color: dark golden color
Breed: Peke-a-Poo
Area Lost: Silverlake Road and Stonewall
Contact: Lisa
Phone: 337-287-3400
Date: 2018-04-13
Time: 4-12-18-morning
Neutred male Pek-A-Poo with an underbite and 3 little tumors on his stomach went missing from his home Thursday-April 12th.