Dog GONE
Dog Gone is heard on each of our stations daily. When we receive an announcement, we air it for at least 10 days before discarding it. If your animal is lost or found within that time period, please let us know, so we will discontinue airing the announcement. Click HERE to submit an announcement. If your animal has been found, please contact us at (918) 336-1001 or email sharon@bartlesvilleradio.com as soon as possible so we can remove it from our list. We retain the right to edit any postings.
Here are links to local websites: Washington County SPCA www.wcspca.org and ARF www.arfok.org
Found
Species: Dog
Sex: Male
Collar: No
Color: Mostly Black
Breed: Dachshund
Area Found: 22nd and Dewey
Contact: Cheryl Salerno
Phone: 918-332-1883
Email: salerno59@outlook.com
Date: 2019-06-24
Time: 2 pm
Young dachshund (around 2 or 3) mostly black, no collar,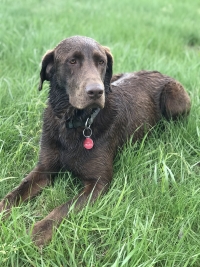 Koby - Lost
Species: Dog
Sex: Male
Collar: Yes
Color: Brown
Breed: Lab
Area Lost: Hillcrest Country Club
Contact: Jason
Phone: 918-346-1773
Email: Jennifer.judd@cox.net
Date: 2019-06-24
Time: 10:00 a.m.
Beautiful male chocolate lab..wearing an orange collar w/ blue tag. The corner of his right eye is raw & irritated.
Molly - Lost
Species: Dog
Sex: Female
Collar: No
Color: Black and white
Breed: Labrador mix
Area Lost: Michigan and Tuxedo area
Contact: Von
Phone: 918-327-9193
Date: 2019-06-24
Time: Sunday, June 23rd--a
Lost
Species: Dog
Sex: Male
Collar: No
Color: Black
Breed: Chihuahua
Area Lost: 18th and Keeler
Contact: Joleen
Phone: 918-337-8012
Date: 2019-06-20
Time:
Black long haired Chihuahua wearing a diaper. No collar. Weighs about 5 pounds