News

Local News
Posted: Jun 17, 2017 7:01 AMUpdated: Jun 18, 2017 3:06 AM
Overnight Fire Closes Delaware St. in Dewey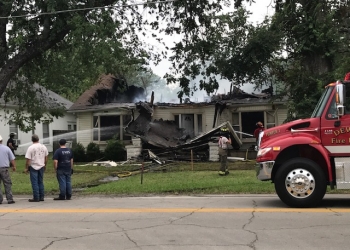 Evan Fahrbach
Delware St. is closed going both directions early Saturday morning due to a fire at a vacant house in Dewey
Going into downtown Dewey from Bartlesville on Highway 123 is not possible as of 8:00 AM Saturday because of a fire at 6th and Delaware.
Dispatch says the call came in at 2:17 AM on Saturday that there was a bad house fire in Dewey. Delaware St. was quickly closed as crews worked to extinguish the blaze.
Several emergency responders were on the scene and reported that no one was injured and the house was vacant and empty. The home appeared to be a complete loss.
A cause for the fire was not immediately known.
Delaware could be closed several more hours, as crews continue to work.
« Back to News