News

Politics
Posted: Jun 19, 2017 11:00 AMUpdated: Jun 20, 2017 2:47 AM
Martin Garber Announces for State House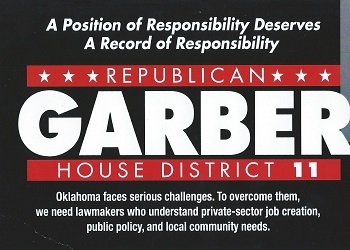 Charlie Taraboletti
Longtime Bartlesville business and civic leader Martin Garber is the first candidate to declare he plans to run for the State House District 11 seat Earl Sears will vacate next year.

Garber chairs Garber Properties -- his property management business begun after a career with Phillips Petroleum. He also served 27 years on the Tulsa Community College Board of Regents and has served on the State Tourism Commission. Garber also serves as a member of the Bartlesville Chamber of Commerce and Bartlesville Development Authority.
Garber says he is running because he is disappointed with the current state of government and the state budget.

Garber says he has seen how bad government policy can create obstacles to creating jobs and increasing opportunities in a community.
« Back to News