News
Washington County
Posted: Oct 10, 2017 10:37 AMUpdated: Oct 10, 2017 11:08 AM
Washington County Board of Commissioners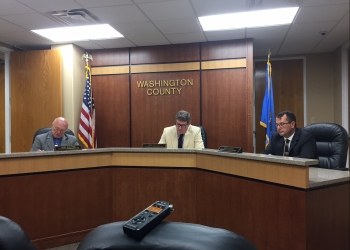 Ben Nicholas

The Washington County Board of Commissioners met at their weekly meeting on Tuesday morning as they were off on Monday because of Columbus Day.

The commissioners approved three major action items in their short meeting, including an agreement between the Oklahoma State University Cooperative Extension Service, the US Department of Agriculture and Washington County for Fiscal Year 2017-2018. The commissioners also approved a request for salary and benefits for the Washington County State Election Board Secretary for the month of September.

All other items in the meeting were approved, including the rescinding of a resolution on Resolution 17-34 because of wording. That action was taken in the New Business portion of the meeting.

The Washington County Board of Commissioners will meet again next Monday morning at 9:30 in the Commissioners' Meeting Room.
« Back to News