News
Local News
Posted: Jan 11, 2018 4:14 AMUpdated: Jan 11, 2018 5:37 AM
City Engineer Rescues Dogs From Caney River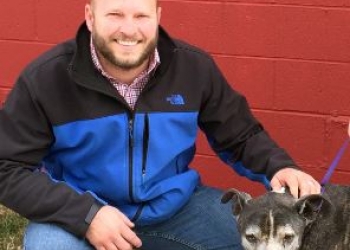 Charlie Taraboletti
A Bartlesville city employee used a makeshift lasso to save a drowning dog Monday from the Caney River.
Officials say Director of Engineering Micah Siemers used the lasso made out of an electrical extension cord to pull that dog out of the water.
Siemers says he was taking photos in Johnstone Park for a project when he saw two dogs walking on the ice in the river.
He then saw one of the dogs in the water. So he called 911, then went looking for something to rescue the dog.
He fashioned a makeshift lasso with an electrical cord belonging to the Fantasy Land of Lights. Siemers said after a number of tries he was able to hook the lasso around the dog's neck and leg, pulling him to the river bank.
An animal control officer arrived and took the rescued dog as well as the other dog which didn't get into the water to the Washington County SPCA. The dog has a microchip but the information is not current. The animal will be available for adoption if it isn't claimed in four days.
« Back to News