News
Local News
Posted: Feb 04, 2018 4:12 PMUpdated: Feb 04, 2018 4:12 PM
Changes Coming to Bartlesville Examiner-Enterprise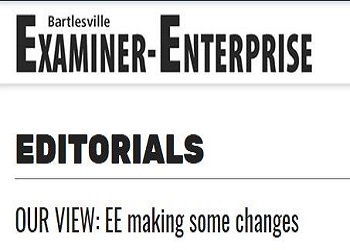 Charlie Taraboletti
Starting next month, the Bartlesville Examiner-Enterprise will publish its paper five days a week -- that's instead of the current six days a week.
Examiner-Enterprise Publisher, Matt Tranquil made the announcement in his Sunday editorial -- titled "EE making some changes".
The editorial refers to the closing of a Tennessee mill which produced newsprint as part of the problem. The U.S. only produces 25 percent of the available newsprint.
The retail price of the Examiner-Enterprise will not change.
PHOTO FROM THE EXAMINER-ENTERPRISE WEBSITE.
« Back to News