News
Local News
Posted: Feb 05, 2018 10:12 AMUpdated: Feb 05, 2018 10:12 AM
Parker Receives Sodexo Experience Award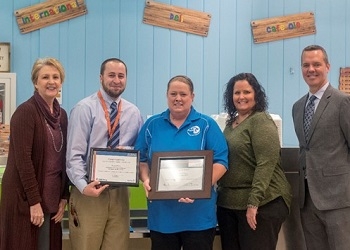 Charlie Taraboletti
Kitchen Manager at Bartlesville's Hoover Elementary School, Beverly Parker received a National Sodexo Experience Award last week.
Parker played a heroic role in preventing what could have been a serious or tragic accident. Instead of a tragedy, Parker's actions created reason for celebration.
A second grader walked up to Parker duing a meal service in September and showed signs of choking. Parker's team took action and stopped other students from entering the serving line while she performed the Heimlich maneuver on the student. Parker was able to free the obstruction.
Once the incident was over, a volunteer sat with the student while Parker completed service.
The immediate benefit was to the child that was choking. The secondary benefit was that this all occurred without mass panic in the cafeteria.
Child Nutrition General Manager, Jonathan Beckloff said, he was absolutely astounded how she saved a life and to her it was just another day at the office.
Sodexo Experience Awards recognize individuals and teams who work in a unit to go above and beyond in their work.
Photo: Beverly Parker, center, received the National Sodexo Experience Award for September 2017 for saving a Hoover Elementary School student from choking. She is joined by Dr. Stephanie Curtis, Exec. Dir. of Personnel & School Support; Jonathan Beckloff, Child Nutrition General Manager; René Burns, Hoover Principal; and Chuck McCauley, Superintendent.
« Back to News