News
Bartlesville Public Schools
Posted: Feb 05, 2018 2:27 PMUpdated: Feb 05, 2018 5:01 PM
Student Brings Gun to Madison Middle School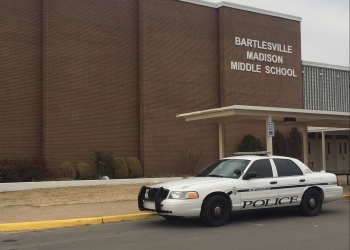 Max Gross
Madison Middle school was placed on lockdown around 2:15 Monday afternoon after a student allegedly brought a gun to the school's campus.
The student was confronted by school officials but he refused to be searched and left the building. The student tried to leave the school grounds but was stopped by a school resource officer.
He was detained by the officer and a search of the school grounds began.
According to police captain Jay Hastings, other officers as well as a K-9 unit arrived on scene and began a ground search of the area the student had been. One of the K-9 officer's dog found a handgun hidden on the school softball fields directly West of the school.
The 14-year-old student was arrested for being in possession of a firearm. Police are checking to see if the firearm has been reported stolen.
« Back to News