News
Nowata County
Posted: Feb 05, 2018 3:22 PMUpdated: Feb 05, 2018 3:46 PM
Nowata Commissioners Appoint New Sheriff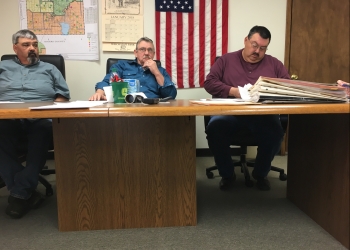 Max Gross
The Nowata County Commissioners appointed Kenny Freeman to serve as sheriff in a regularly scheduled meeting on Monday morning. Freeman is taking over the remainder of former sheriff Sandy Hadley's term who retired at the end of January.
Freeman was born and raised in Nowata County and has an extensive background in law enforcement having served in a multitude of different roles on and off since 1997. Freeman talks about his new post.
Freeman was the only person to apply for the job.
Chairman Doug Sonenberg explained the responsibility that goes along with title.
Other items from the new business portion of the meeting included awarding a concrete bid to Midwest Minerals. The commissioners also declared February 18 through February 24 as Farm Bureau Week.
« Back to News