News
State of Oklahoma
Posted: Apr 13, 2018 1:49 PMUpdated: Apr 13, 2018 1:49 PM
Endangered Bird Recovers In Oklahoma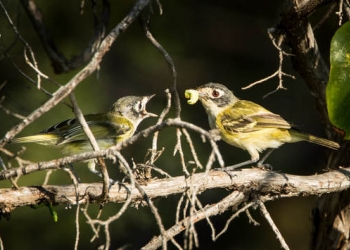 Ben Nicholas
The U.S. Fish and Wildlife Service announced the recovery of the black-capped vireo, a small migratory songbird that breeds and nests in Oklahoma, Texas and northern Mexico.
Only 350 birds remained across the vireo's range when the bird was listed as an endangered species in 1987, with less than 50 to be thought to live in Oklahoma.
Matt Fullerton, endangered species biologist with the Oklahoma Department of Wildlife Conservation, says Oklahoma's population has grown to more than 4,000 birds.
Nesting pairs also have been found just outside of the refuge and military base and at Quartz Mountain Nature Park near Lone Wolf. Another small population was recently rediscovered on private property in Blaine County.
While in the state, these songbirds feed on insects, especially butterfly and moth caterpillars. Suspended nests are built 2-6 foot above the ground and egg-laying reaches its peak in June. After a four-month nesting season in Oklahoma, these birds migrate and overwinter in Mexico's western coastal states.
The vireo will be officially removed from the List of Endangered and Threatened Wildlife and Plants in mid-May. Surveys for the bird will continue at least 12 years to ensure the risk of extinction has passed.
« Back to News