News
City of Bartlesville
Posted: May 14, 2018 12:54 PMUpdated: May 14, 2018 12:54 PM
Arvest Foundation Contributes to Kiddie Park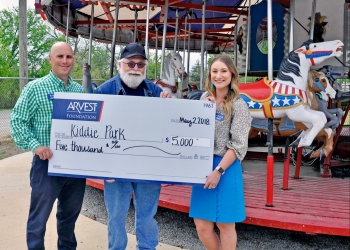 Ben Nicholas
Arvest Bank and the Arvest Foundation have donated $5,000 to the Kiddie Park in Bartlesville.
With roots tracing back to the 1940s, the Kiddie Park has been a staple in the Bartlesville community for decades. The Kiddie Park is a safe place for youth and their caregivers to have fun and build lifelong memories. Funds from the Arvest Foundation will be used to maintain the park's rides and attractions.
The gift was announced at the Kiddie Park in front of the iconic carousel. Local bank president Kyle Hubbard and marketing manager Annah Fischer were on hand to present the check to Kiddie Park president Ron Adams.
« Back to News