News
Indians
Posted: Jul 06, 2018 2:43 PMUpdated: Jul 06, 2018 2:43 PM
Rains Dampens Winget Day 3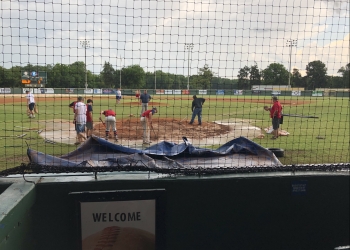 Max Gross
A midday storm delyaed action in day No. 2 of the 59th annual Glen Winget Memorial Tournament on Friday. Action was delayed in the second game of the day between the Wichita Aviators and Enid Plainsmen.
The Doenges Ford Indians were slated to play a 7 p.m. game Friday but that will likely be set back a considerable amount of time. As of now the start is TBA.
The Indians are 2-0 to start the tournament. They will advance to the championship brack with a win against Mountain Home, Arkansas.
Stay tuned to our social media pages for updates.
« Back to News