News
City of Bartlesville
Posted: Nov 08, 2018 12:42 PMUpdated: Nov 08, 2018 2:34 PM
Demolition of Building Highly Considered in Bartlesville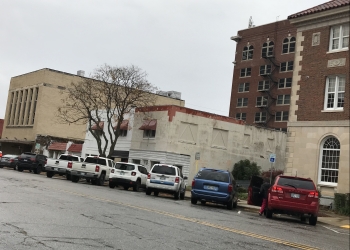 Garrett Giles
The building between the Administration and Judicial buildings in Bartlesville will be torn down in the months to come. The property is owned by the Washington County Building Commission.
According to Washington County District 3 Commissioner Mike Dunlap, the Washington County Board of Commissioners will likely move forward with removing the structure due to the high cost for structural repairs. Dunlap says it would be more advantageous to tear the building down.
Dunlap says the estimated cost for the project could range from $30,000 to $60,000 unless they work on the project with their own equipment. The commissioners are currently discussing how they will go about demolishing the structure.
Nothing has been finalized. Dunlap says the public will be informed as soon as possible as more information becomes available.
Dunlap says the demolition would create approximately 30 additional parking spaces for Washington County employees. The lease agreement with the tenants ends this year. The demolition, according to Dunlap, probably won't happen until February 2019 so that the tenants will have enough time to move out of the building.
« Back to News