News
Washington County Board of Commissioners
Posted: Dec 05, 2018 10:48 AMUpdated: Dec 05, 2018 11:28 AM
Detours Mentioned in Hwy 123 Bridge Plans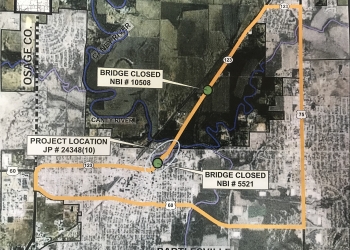 Garrett Giles
Earlier this week, the Washington County Commissioners mentioned an upcoming public meeting that the Oklahoma Department of Transportation will hold in Bartlesville. The public meeting held by ODOT in cooperation with the Federal Highway Administration will cover construction plans for the state highway 123 bridge crossing over the Caney River. District 2 Commissioner Mike Bouvier says the public needs to be informed.
The existing Caney River Bridge is a 3-span truss bridge with sidewalks that are in poor condition and is considered structurally deficient, according to ODOT. The current traffic volume is 5,670 vehicles per day with a 20-year projected traffic volume of 7,960 vpd.
Dates closures and duration for the highway 123 bridge are still to be determined since the project has not been let for construction. Once the project is let for construction, the bridge and the roadway north of the river will be closed. The closure is anticipated to last 270 days with incentives to reduce the closure time. ODOT has considered using this as an apporximately 12 mile state highway detour:
Northbound - From junction of SH-123 at Hensley Boulevard and Bartle's Road in Bartlesville, proceeed west on Hensley Boulevard (SH-123) to Junction SH-123/US-60, then south on US-60/SH-123 to Junction US-60. From there, proceed east on US-60 (Adams Blvd.) to the Junction of US-60/US-75, then north on US-75 to the junction of US-75/SH-123 in Dewey.
While the state highway detour will be signed for the through state highway traffice, the local traffic will be able to utilize local county or city roads.
The public meeting will be held at 6 p.m. on Dec. 20 at the Bartlesville Community Center located at 300 S.E. Adams Boulevard. They will present the preferred alternative, environmental impacts and obtain comments on the preferred alternative. ODOT says this will aid their efforts moving forward as the complete their environmental studies, esign and subsequent constrction.
« Back to News