News
Bartlesville
Posted: Mar 14, 2019 10:42 AMUpdated: Mar 14, 2019 10:53 AM
Union State Bank Holds Grand Opening Ceremony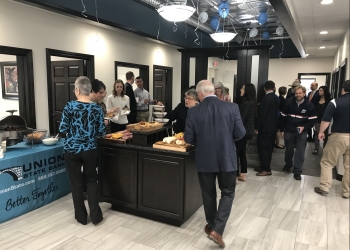 Garrett Giles
Union State Bank in Bartlesville held a Grand Opening Ceremony Thursday morning. The Bartlesville Chamber of Commerce took charge of the ribbon cutting that happened outside the front doors of the bank.
Bartlesville Market President Jeanna Breech said the move was necessary for Union State Bank. Breech said they had a loan production office first in Bartlesville before opening their new full service branch. She said Union State Bank in Bartlesville are excited to have full services that they can offer to their customers now.
According to Breech, Union State Bank is a small town bank that thrives on customer service. She said their motto is "Better Together." She said customer service helps Union State Bank stand out.
Moving forward in their new location, Breech said they want to do whatever they need to do for their customers while building a relationship with them. She said they will also strive to give people the proper loans and accounts they need when they come to Union State Bank.
Union State Bank is now located along Nowata Road. They were located at Keller Williams Realty Building in Bartlesville before the move. Breech said the main Union State Bank is located in Arkansas City, Kansas. She said the Bartlesville location is the first Union State Bank in Oklahoma.
« Back to News