News
Bartlesville Public Schools
Posted: Mar 14, 2019 1:18 PMUpdated: Mar 14, 2019 1:18 PM
Bartlesville Schools Recognized for STEM Programs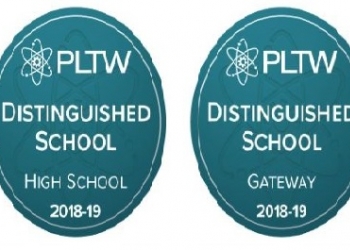 Garrett Giles
The outstanding STEM programs at all three secondary schools in the Bartlesville school district have earned each of the schools Distinguished School status with the Project Lead the Way STEM program. Bartlesville High School is the only comprehensive high school in Oklahoma to be named a PLTW Distinguished High School. The four other state schools to receive that honor are all CareerTech Centers, including: Tri-County Tech in Bartlesville and technology centers in Drumright, Norman, and Stillwater.
The high school's Computer Science program earned it Distinguished School status because it offers at least three PLTW courses (Bartlesville High School has four PLTW Computer Science courses). BHS also earned the status because of the students who participate in PLTW Computer Science (at least 33-percent took two or more PLTW courses during their high school tenure). 70-percent or more of the students earned a Proficient or higher on PLTW End-of-Course Assessments in Computer Science.
Jeremy Hanks teaches Computer Science Essentials, AP Computer Science Principles, AP Computer Science A, and is piloting a Cybersecurity course for PLTW at BHS. Josh Wolfe also teaches Computer Science Essentials at BHS.
In partnership with Tri-County Tech, BHS also offers two Pre-Engineering courses in its Phillips 66 Innovation Labs, taught by BHS teacher David Ayres. His students then have the option of taking additional courses in that field at Tri-County Tech.
BHS also offers STEM courses outside of PLTW. Advanced Math Applications is currently taught by Warren Neff, who was a State Teacher of the Year Finalist. Betty Henderson, another State Teacher of the Year Finalist and member of the State Science Fair Hall of Fame, offers a Science Research course available to juniors and seniors at BHS.
Both Central and Madison Middle Schools were again named Distinguished Schools for 2018-19 in the PLTW Gateway to Technology program. They earned the same distinction in 2017-18 and were two of only four state middle schools to receive the honor for 2018-19.
For two consecutive years, both Central and Madison middle schools have been named PLTW Distinguished Schools because they offer PLTW Gateway units at the 6th, 7th, and 8th grade levels. They also have at least 50-percent of the student body participating in the program. 25-percent of the students advancing to high school also participate in two or more units during their middle school tenure
Rachel Hough and Shannon McKinney teach the PLTW Gateway STEM courses at Madison Middle School. Shannon is a PLTW Master Teacher and also chairs the district's STEM department. Darin Messerli and Lolly Williams teach the PLTW Gateway STEM courses at Central Middle School, and Central hosted a robotics tournament this year. Students at Madison and Central take their Gateway courses in the Phillips 66 Innovation Labs at each middle school.
All of the students in kindergarten through fifth grade at each of the district's six elementary schools are completing two PLTW Launch STEM modules this year: one in computer science and another in biomedicine or engineering. The Bartlesville Public Schools Foundation is currently raising a final $100,000 in funds to provide two more modules for all kindergarten through fifth-grade classrooms. Those should be implemented in the next two school years.
Over 4,000 of the almost 6,000 students in the Bartlesville Public Schools are completing specialized STEM modules or courses in addition to the traditional subjects in science and math. The district's strong performance in STEM is why Project Lead the Way asked it to host a PLTW Showcase for 80 state school leaders in February.
« Back to News