News
Nowata County
Posted: Jan 06, 2020 10:47 AMUpdated: Jan 06, 2020 10:47 AM
Nowata Commissioners Appoint LaRue as Chairman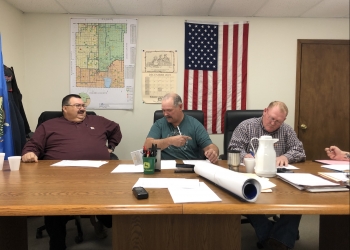 Max Gross
Burke LaRue was appointed as the chairman of the Nowata County Commissioners for the 2020 calendar year at Monday morning's meeting. Doug Sonenberg had previously served as the chairman for the last two year's.
LaRue's first suggestion as chairman was to bring the process of seconding to the meetings. The new chairman said he was puzzled why this process wasn't a part of previous commissioners meetings.
The commissioners handled several other beginning-of-the-year procedural items. First, they renewed their dues to the National Association of Counties for $450. Also, the mileage reimbursement resolution for county employees was approved.
A work order was submitted to Thyssenkrupp elevators to repair a fraying cable on an elevator in the courthouse. The cable is deemed non-essential. The commissioners also concluded the meeting with an annual inspection of the county jail.
« Back to News