News
Washington County
Posted: Jan 07, 2020 9:00 AMUpdated: Jan 07, 2020 9:31 AM
High Fire Danger in the Forecast for Wednesday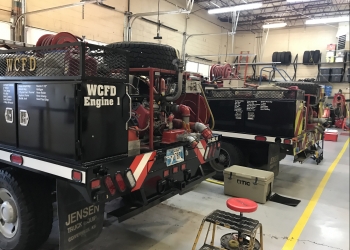 Garrett Giles
A high fire threat is in the forecast for your Wednesday, and Kary Cox, the Director for Washington County Emergency Management, is asking you to use caution.
The fire spread rate is one of the biggest concerns. Cox said fire spread rates will be anywhere between 150 to 300 feet per minute on Wednesday. He said that depends on what the wind gusts will be.
Predicted wind gusts for Wednesday have varied between 30 to 40 miles per hour. On Monday, a couple grass fires did occur in Washington County. Cox said the fires were pretty active, but they were not as bad as they could be. He said they were active because there is plenty of dry vegitation that remains dormant in our area. Mix that with lower humidities and high temperatures, and you have the perfect ingredients for wildfires.
Any burning activity is not ideal this week. Cox said eveybody needs to heed this warning. Just because conditions may not seem bad with the soil being moist and the winds acting calm, they are actually not great at all. The ingredients mentioned earlier for a wildfire will be in place on Wednesday, and Cox wants everyone to be careful.
This time of year is when Washington County Emergency Management asks you to attend to your fires, that you know what the conditions are for burning, and that you feel capable enough to control the fire you start.
Cox said crews will be on standby should a fire occur on Wednesday. He said they will continue to look at the forecasts and the indicators for wildfires when the coniditions hit. The crews will be on hand so they can have a quicker response, should there be a fire.
« Back to News