News
Bartlesville
Posted: Feb 03, 2021 9:10 AMUpdated: Feb 03, 2021 12:20 PM
Bartlesville Police Host Area Media for MILO Training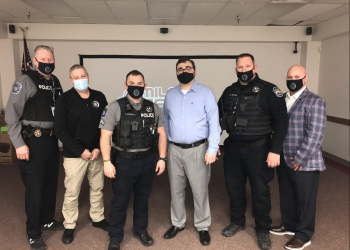 Garrett Giles
Members of the media participated in a "shoot / don't shoot" training exercise that was hosted by the Bartlesville Police Department on the campus of Tri County Tech on Tuesday afternoon.
Bartlesville Radio, News on 6, and FOX 23 were participating members. Bartlesville Police Chief Tracy Roles said it's one thing for him to tell people how difficult being a police officer is, but it's another thing if they allow people to come and see it for themselves. He said that was the intent of having the media over to use the new MILO Range Simulation Training System.
Chief Roles said that he hopes the members of the media that they hosted at Tri County Tech can understand some of the times when law enforcement fails at being perfect. He wanted to get the media thinking about whether or not perfection is obtainable after going through the MILO system's portrayals of real life situations.
Chief Roles said he would let members of the media determine whether or not perfection could be obtainable. He said they'll always push their officers to get everything perfect; they'll push their guys to do everything the right way. He said that is what they expect at the Bartlesville Police Department.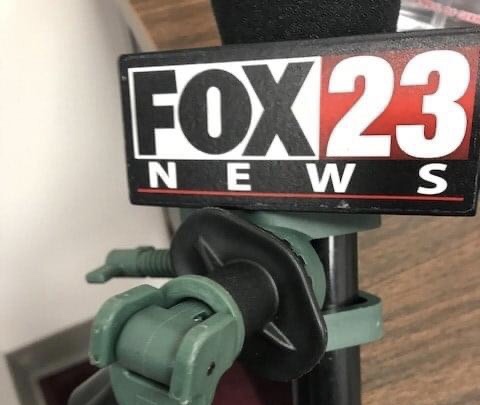 Getting members of the media that report on police and crime but don't walk in the shoes of police officers and haven't been in law enforcement was the goal of the MILO Media Day. Chief Roles said members of the media were in a controlled and environment at Tri County Tech's Strategy Center. That in mind, media representatives were put through high stake situations that were designed to be as real as possible. By the end of simulations, the media left with their own thoughts and determinations about the difficulties police officers may face every day. Thoughts from Garrett Giles of Bartlesville Radio can be read below.
Chief Roles said the Bartlesville Police Department like other departments across the nation do not face "shoot / don't shoot" situations every day, but they always face critical incident decisions. He said every single day police officers have to make a critical decision that can be very impactful.
Even if an officer just arrests someone, it can be impactful on that person's life. Chief Roles said they have to get these decisions right 100-percent of the time. He said they don't have the luxury to bat .300 and get into the Hall of Fame; they have to be perfect. He said people expect them to be perfect.
With everything going on in society today, Chief Roles said it seems as if society almost always demands that they be perfect. Chief Roles told Bartlesville Radio that the Bartlesville Police Department has implemented a quarterly Arrest Control Defensive Tactics Training. He said the training is not mandated by the State of Oklahoma. He said the State of Oklahoma and CLEET doesn't have any continuing education requirements when it comes to arrest control. There is a yearly requirement for firearms training.
But where they fail in their police training, according to Chief Roles, is in critical decision making. Chief Roles said they do not do enough critical decision making training; they don't condition their people to put themselves in a position to be most successful when it comes to difficult decisions. He said the BPD is going to combine this training with their quarterly Defensive Tactics Training to create more rounded officers when it comes to arrest control and they have to put their hands on people. He said they have to put their hands on people a whole lot more than they have to use deadly force, so they're going to use the MILO system in their training because of the high decision making aspects that are involved.
There are a ton of decisions that need to be made when you're dealing with people. Chief Roles said these decisions occur when an officer is talking to people, when they're trying to get people to comply, or when they're trying to make an environment safe. He said the MILO system will put their officers in a better position to be successful in the field.
On Tuesday, Feb. 23rd, and Wednesday, Feb. 24th, the Bartlesville Police Department will invite several members of the community to take part in the MILO system and get a feel for what decisions officers face on a daily basis. Chief Roles said they have approximately 50 to 75 people that will come out and try the new training simulator. He said this is an educational campaign to get people thinking about what it truly means to be a police officer.
Pictured right is Reagan Ledbetter with News on 6 with members of the Bartlesville Police Department.
Chief Roles said they'll keep doing this process for as long as they can. He said the Bartlesville Police Department has a goal to educate as many people as they can so the public can see what serving the community every day is like for the men and women in law enforcement while all the rhetoric is screaming at them about how "bad" of a job they're doing.
As police executives, Chief Roles said it's up to them to educate the public so they can give the brave men and women who go out and protect us every day the credit they deserve. Chief Roles said it's time for police officers to get the credit they deserve. He said Bartlesville is unique in that law enforcement has a tremendous amount of support, but their police officers have to deal with all the bad stuff that is being said about police officers that they don't even know from different states. He said it's not fair that they get a bad tag because of other bad actors across the country.
Just because it's not fair doesn't mean that the Bartlesville Police Department and other departments should sit around and do nothing, as Chief Roles said they need to let people know why they do what they do. Chief Roles said people do not need to support law enforcement or like them, but he would at least ask them to try out the MILO system to get a feel for what they are faced with each and every day.
Corporal Jarred Burdick, Corporal Brandon Meyer, Lieutenant Troy Newell, Captain Keving Ickleberry made the MILO Media Day a huge success. Also in attendance to make the media day a huge success was Chief Roles and Captain Jay Hastings.
Bartlesville Radio Tries Out the MILO System
Going through the five to six scenarios on the MILO System made my heart beat every time and it made me realize that perfection as a police officer is very difficult to obtain if you're not properly trained like I was.
The very first scenario sent me to an apartment complex where I was debriefed by a fellow officer about a domestic incident on the second floor of the building. I saw myself walking up the stairs to the first door on the right and I knocked. The door flew open and a woman, frantantic, was practically yelling at me while putting on a shirt. Everything happened so fast that I barely saw the suspect walk out the door onto the balcony. I felt like I was doing everything in my power to calm the woman when the man quickly came around the door and shot the woman dead right in front of me. Blood splattered onto the screen and I was frozen. It almost felt as if the blood was on me when in reality it was just on the screen. I was so frozen that I heard the suspect's gun go off three to four times, if not more, and I never reached for my weapon. I was dead. I had failed.
Corporal Burdick, Corporal Meyer, and Captain Ickleberry would walk me through it from there. They asked me questions:
"What did you see?"
"What did you hear?"
"What could you have done in this situation differently before it's too late?"
"How can you take control of the situation?"
I was too worried about the victim that I didn't even bother worrying about the suspect. When they played the video back, I kept a closer eye on what was happening behind the woman, and sure enough, you can see the suspect getting out of a love seat and a gun is in his hand. It would seem as if it would be clear as day to see, but with everything happening all at once, I became flustered and barely saw him walk out the door. Had I been paying more attention to the details, I could've seen the man sooner and the gun. I could've gotten the woman to safety by getting her out of the apartment and to the other officer. I could've done this... I could've done that... I could've done something... but it didn't matter because I didn't act quick enough. It was over.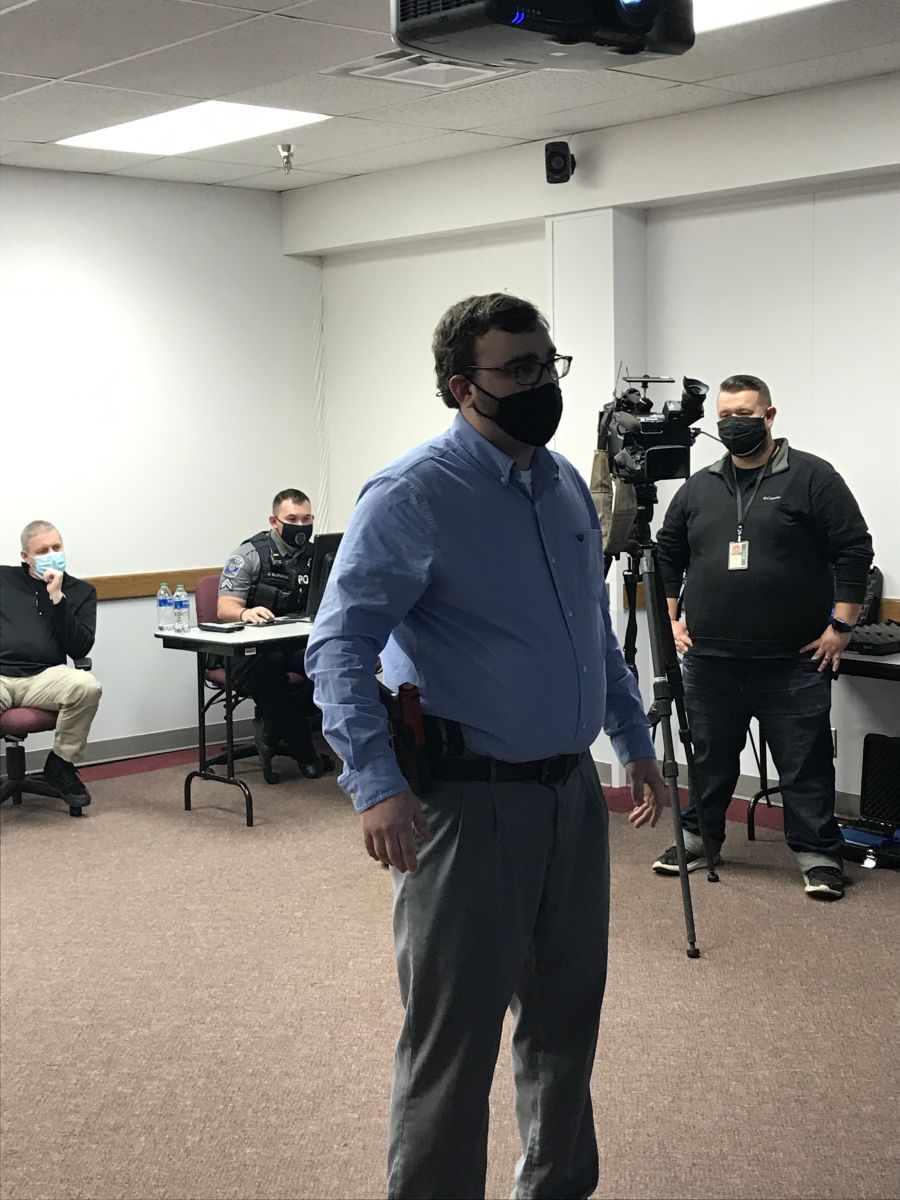 Thankfully this was just a simulation, but what if it was the real deal. There was no room to dilly dally. Everything had to happen and it had to happen now. The safety of the victim and myself depended on how quickly I reacted to everything happening around me. One wrong choice could lead to the death of those in the room and myself, so I had to make a series of right choices quickly, yet accurately, to get the situation under control.
The discussion after each simulation that the officers in the room had with me was incredible to hear and understand. I truly appreciated their knowledge of each situation and how they would've handled it if they were in my shoes. They didn't need to be in my shoes though. I needed to put myself more in their shoes while working through these scenarios.
Out of all the scenarios I went through, I got one right. It was another domestic situation. The man clearly had a gun in his back pocket, and was fighting with his wife. When I walked up to them, the man grabbed his wife and held her as a hostage. The suspect immediately grabbed his gun from there, and before he could get the gun pointed at me, I had my gun ready and I shot. I was told that was the right call to make, but I second guessed myself a lot.
I would also go through scenarios involving an active shooter, a suicidal man with a huge hunting knife, and a drunk, suicidal man that threatened to kill himself and his wife. In every situation, I had to analyze what was happening in the room or location around me. I had to read the people involved in each situation. And again, I had to make the right decision and I needed to make that choice now.
I was stressed during every single situation; I was tense, and it was only a simulation... I can only imagine what runs through the minds of the brave men and women that might be putting their lives on the line at every turn each day while the whole world is watching.
The Bartlesville Police Department and those that serve our community have always had my respect, but I respect them even more after the MILO Media Day. Those in law enforcement make tough calls, and I hope more members of the media and the community will take the time to learn from the leaders in law enforcement like the Bartlesville Police Department. I also pray that other departments in the State of Oklahoma and around the country model the BPD by teaching others about their profession. Society needs to learn to get along better with itself, and it starts with events like the MILO Media Day.
Photo courtesy: Bartlesville Police Department
« Back to News