News
Bartlesville
Posted: Apr 07, 2021 9:08 AMUpdated: Apr 07, 2021 9:16 AM
Dr. Everette Piper Talks About His New Book, GROW UP, on COMMUNITY CONNECTION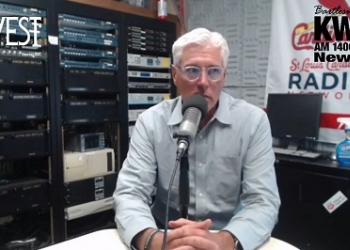 Tom Davis
Dr. Everette Piper, retired President of Oklahoma Wesleyan University, has a new book coming out on April 13, 2021, and he spent some time with us in COMMUNITY CONNECTION to talk about it.
The book is called "Grow Up; Life isn't Safe, But It's Good."
In Grow Up, the nearly two-decades-long president of Oklahoma Wesleyan University and the national bestselling author of Not a Day Care, Dr. Piper, presents common-sense solutions to the lunacy Americans face on the news, in the classroom, and from the mouths of elected officials in a powerful reminder that in the end, civilization relies on adults.
Piper blogs at politicalmavens.com and crosswalk.com. He is a contributing columnist for The Washington Times. Piper has appeared on Fox News, Fox & Friends, The O'Reilly Factor, Tucker Carlson Tonight, Fox's Varney and Co., The Glenn Beck Program, The Dana Loesch Show, The 700 Club with Pat Robertson, CBN News, The Adam Carolla Show and he has been featured on NBC Today as well as NRA TV, CRTV and others. He is a frequent radio commentator, appearing on dozens of radio stations including KWON and KYFM.
Piper is the author of the viral op-ed, "This is Not a Daycare, It's a University"; The Wrong Side of the Door: Why Ideas Matter (2009), a collection of his essays, republished by Camden House Books under the title, Why I Am a "Liberal" and Other Conservative Ideas;and Not a Day Care: The Devastating Consequences of Abandoning Truth, Regnery Publishing, 2017.
In March 2016, Dr. Piper received the Jeane Kirkpatrick Award for Academic Freedom at the Conservative Political Action Conference (CPAC).
« Back to News