News
Local News
Posted: Nov 17, 2021 3:58 PMUpdated: Nov 19, 2021 6:48 AM
Students Enjoy Cupcake Wars at Tri County Tech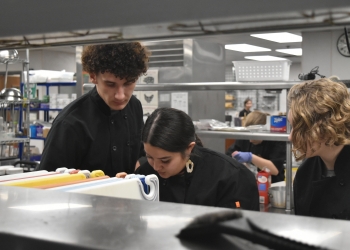 Garrett Giles
A war in the kitchen leads to confidence in the culinary arts for Tri County Tech students this week.
For the audio version of this story, click here.
They call it the Cupcake Wars Challenge at Tri County Tech in Bartlesville.
Culinary Arts Specialist and Instructor Seth Day says the competition means their students have achieved the goals throughout Baking I.
Day says the contest is also a chance for student's to showcase their skills as they complete their course work. He says they have learned to bake cakes and create amazing frostings.
Roughly 30 students took part in the challenge, including Fantasia Jones, who goes by Chef Fan-Tasty. Jones says she felt confident that she would win. She says all she does is "win, win, win!"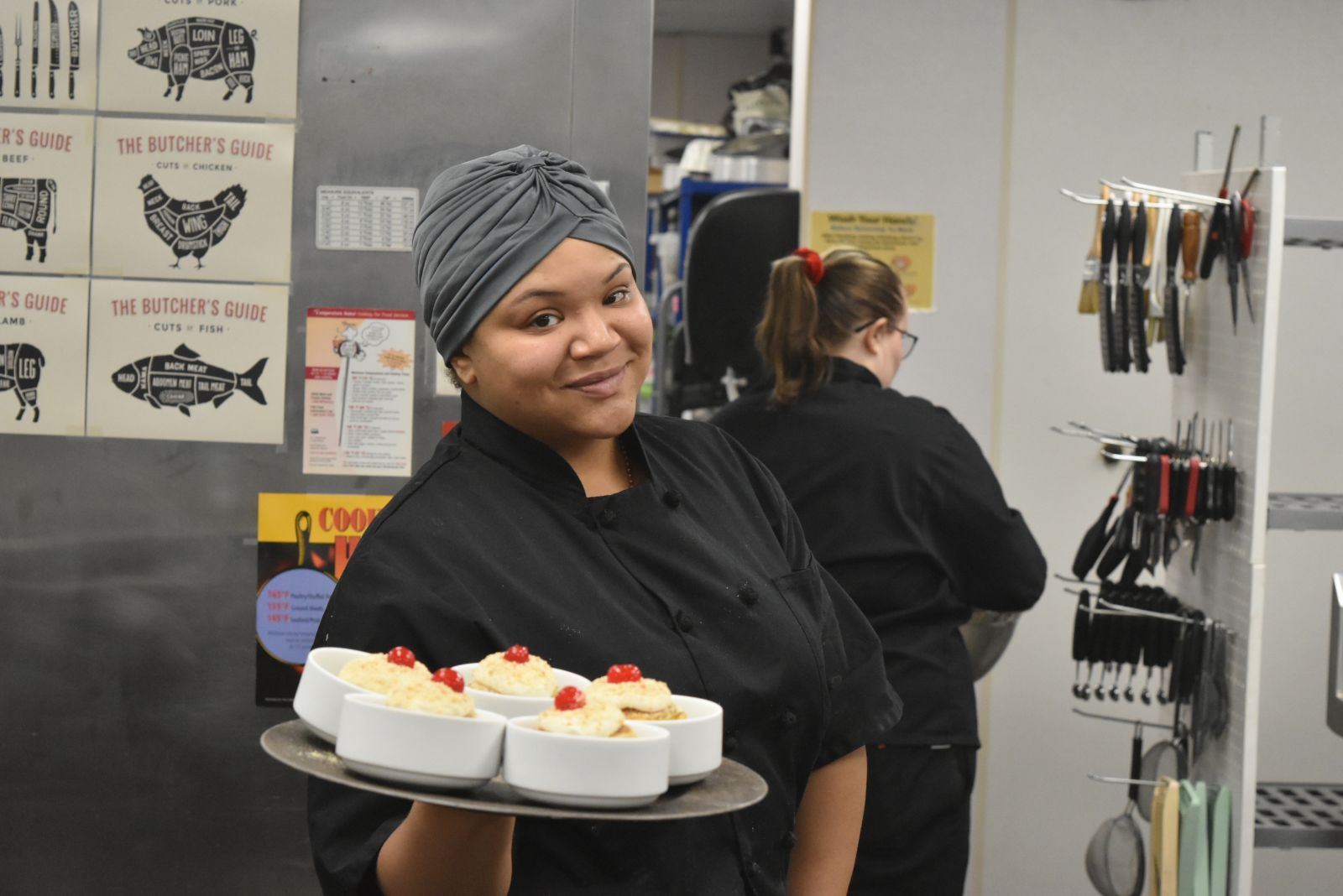 Jones (pictured left) presented a pineapple upside-down cupcake. Jones says she bruleed brown sugar and diced pineapples under the homemade cream cheese icing. She says she topped off her masterpiece with a vanilla wafer and a cherry.
Specializing in pastries and cupcakes is Jones' desire. Jones says she has a dream to be on Food Network. She says it was fun for her to be in school and compete at the same time.
The Cupcake Wars Challenge at Tri County Tech is the real deal to Jones, who says the event is great hands-on culinary fun. Jones says the contest was a perfect opportunity for her. She says being in the classroom reassures her that she is doing all the right things in the kitchen.
Dylan Malaske says going up against his classmates to see who could make the best cupcake was a blast. Malaske says the amount of time and effort you put into making a sweet treat depends on the greatest outcome, especially when it comes to cupcakes. He says he made a maple bacon cupcake for the judges to enjoy.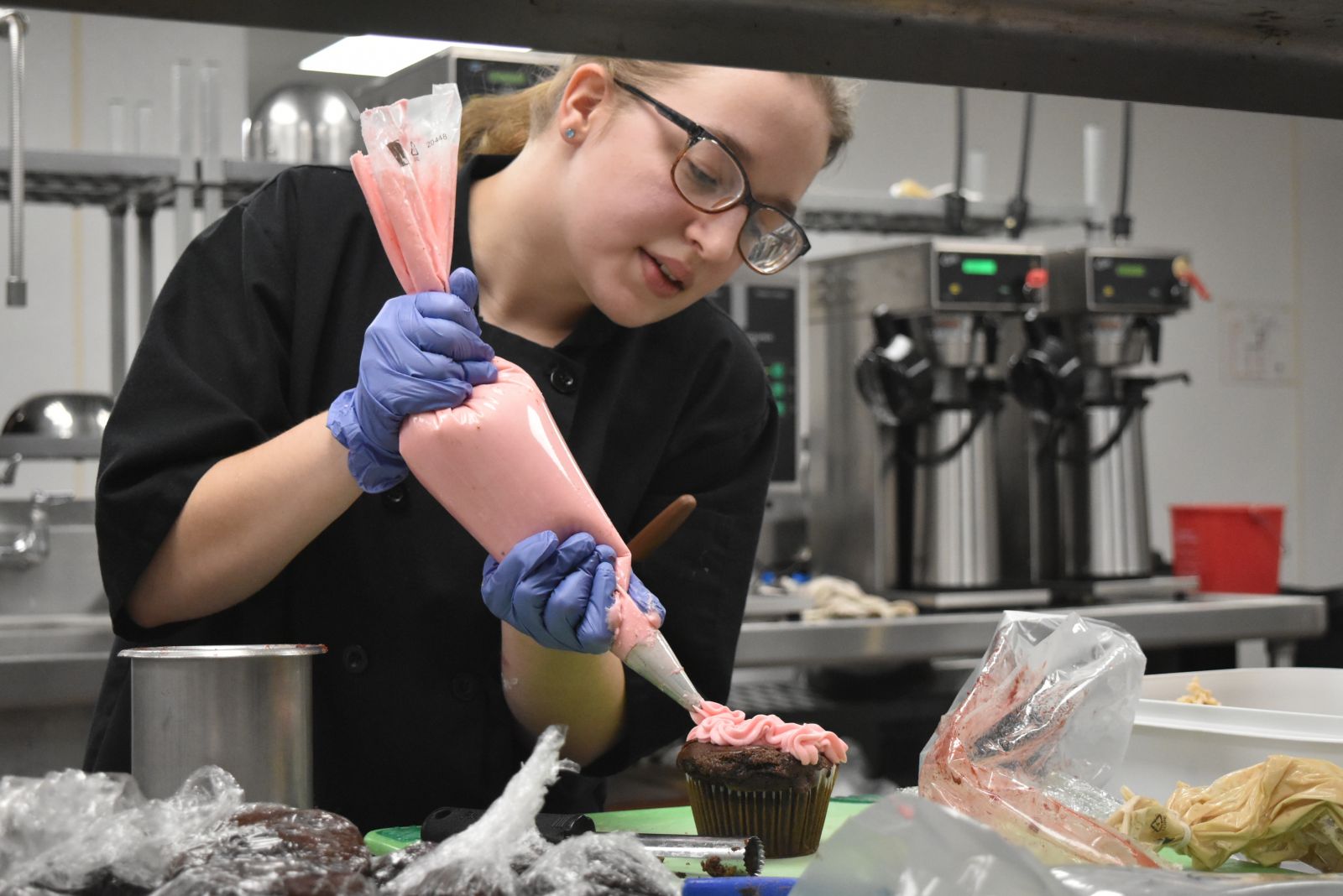 Meanwhile, on the other side of the kitchen, Grace Dray (pictured right) was making a chocolate cupcake with pink frosting and a strawberry glaze on top. Dray's cupcake was filled with strawberry goodness as well. She says it was fun to see what everyone else was coming up with during the competition.
It was a battle against the clock for Josie Kipps, who was a day behind in the contest. Despite the time crunch, Kipps felt very pleased with the outcome. Kipps says she skipped school and stayed late to ensure that her cupcakes, frosting, mini cinnamon rolls, and glaze were ready to go. She says she got it done all in one day.
Love makes the perfect cupcake. Kipps says this is true because you have to take your time with the creation. She says paying attention to every detail is love when it comes to cooking.
When it came to present her cupcake to the judges, Kipp says her classmates were hyping her up. Kipp says the mood drastically changed by the time she got out of the kitchen and was in the spotlight. She says only one judge smiled.
Walking away from the contest with the sweet glory was Jake LaSpisa in the morning class, and Logan Patton and Connor Bush later in the afternoon course.
Current students and former culinary students at Tri County Tech judged the event. Day - a Tri County Tech culinary graduate himself - says one of the judges was a student that graduated three years ago while another judge graduated just last year. He says faculty members judged the contest as well.
Day says it was incredible to have former students back on campus. He says they loved catching up with them to see how they are doing in the culinary world while seeing their expertise in action as they judged the contest. He adds that the students greatly benefitted from the feedback from the judges.
When students step out of their shell, Day says it gives them an itch for more. Day says students may have felt nervous to present their sweets before a panel of judges, but it is these moments that help promote greatness. He says being nervous in front of a panel of judges is a good thing.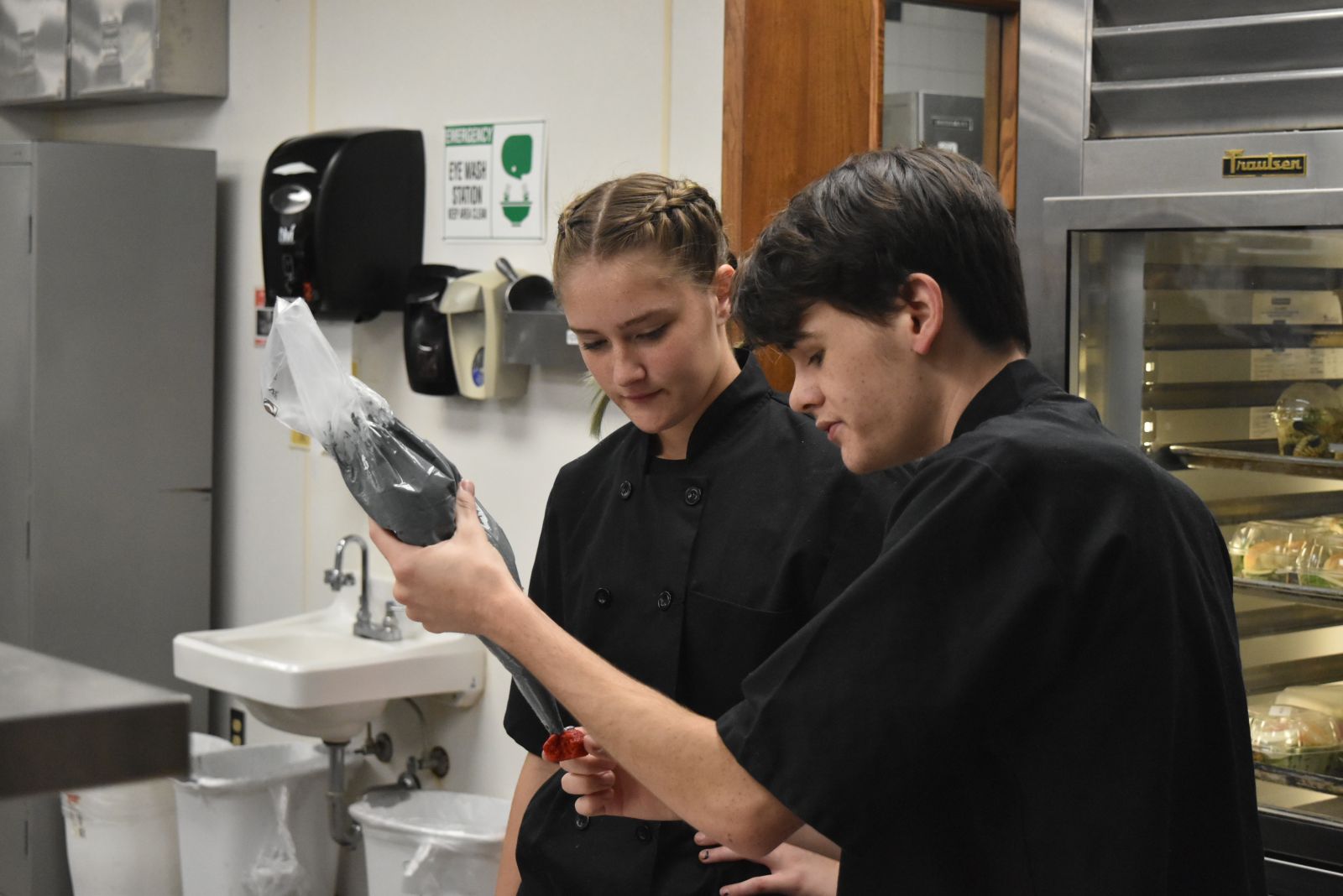 Confidence is essential in the food industry. Day says it is essential for their students to have confidence in their crafty because the world can be rough at times. He says they are doing their best to change the food industry by training their students to have confidence.
LaSpisa was the baker of the Tres Leches Cupcake, which was presented in a coffee cup, taking the mind back to the original form of the term "cup cake." Patton and Bush's cupcakes featured the flavors of Tres Leches cupcake and icing, and lemon cake with strawberry icing with a bruleed citrus garnish respectively.
Day says this event was an incredible experience for their students. He says they look forward to the next battle full of sweet delicacies.
« Back to News