News
Bartlesville Public Schools
Posted: Nov 18, 2021 3:58 PMUpdated: Nov 19, 2021 6:48 AM
Bruin Brigade Salutes Three BPS Drivers with Song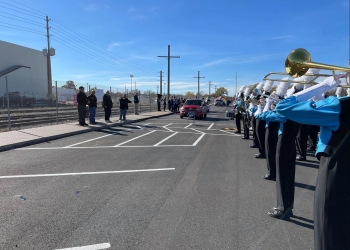 Garrett Giles
Prior to last Saturday's Veterans Day Parade downtown, Bartlesville High School's Bruin Brigade shared a special moment with its transportation team.
Band Director Alex Claussen says they have a wonderful transportation crew at Bartlesville Public Schools. Claussen says they wanted to give a special patriotic salute to three of their bus drivers for their previous service in the United States Air Force by playing "You're A Grand Ole Flag."
Claussen says the Bartlesville High School band was limited on travel in 2020 due to COVID-19. He says they normally go all over Oklahoma for games and contests, and they normally get to tour the country as well. In fact, the band was only able to leave town twice last year.
Getting back to travel this year has meant getting back in touch with BPS's transportation department. Claussen says it is not uncommon for them to have the same driver's trip after trip, which is how they got to know Ron Ivey, Mark Burris and David Fesler. He says the band staff always does its best to make sure their students are taking care of the busses and being respectful of the drivers when they go on trips.
Over the course of the fall, the Bruin Brigade got very familiar with their drivers. Claussen says they kept them in mind often as they prepared for the Veterans Day Parade in downtown Bartlesville that was slated for Saturday, Nov. 13 - two days after Veterans Day. He says he spoke with the staff and students about saluting their drivers for sacrificing their weekends to take them to games and competitions while paying homage to the military service of these great men. They were all on board.
As the band was staging and practicing in the Phillips 66 parking lot, Ivey, Burris and Fesler were invited over for the special occasion. Claussen says they had the drivers stand in front of the Bruin Brigade and they played "You're A Grand Ole Flag," as a way to say, "Thanks for your service." He says they were obviously there to perform for all veterans, but they wanted to pause for just a moment and play the song for them.
Claussen says he was especially proud of the students for wholeheartedly wanted to play the song for their drivers, three great veterans in our community. He says it was their pleasure to show the veterans in Bartlesville their support.
From 1974 to 1975, Ron Ivey served in the U.S. Air Force. Ivey says he felt good standing before the band as they performed specifically for him. He says he loves the band and that the performance gave him chills. He says the display nearly brought a tear to his eye.
Ivey has served as a driver for Bartlesville Public Schools for almost three years. Ivey retired from the telecommunications world previously after spending over 30 years AT&T and Aviya doing telephone and voice mail systems. He was based in Bartlesville for 10 years in the 80s and 90s and was a dedicated sales person that worked on the Phillips Petroleum account.
Ivey's son graduated from Bartlesville High School in 1991. Ivey says he left Bartlesville for 23 year and owned a trucking company before telling his wife that he wanted to move back. He says he moved back to Bartlesville because of its small town atmosphere, which is warm and welcoming.
The Bruin Brigade's performance was the frosting on the cake for Ivey. Ivey says Mr. Claussen is an incredible band director. He says the kids in the band are outstanding. He adds that they are full of charisma, energy and charm, which makes them a joy to be around.
Mark Burris served in the Air Force for 21 years. After retiring from the military in 2006, Burris returned to Bartlesville. Burris worked for CableOne (now Sparklight) before moving on to work at the Walmart Distribution Center for 13 years. He says he eventually worked for Diversified Systems Resources until the coronavirus pandemic hit in 2020. He has been a BPS bus driver for a little over a year now.
Burris says it means a lot to see a young group of men and women supporting veterans. He says Mr. Claussen is a great leader for the kids.
With all the bad in the world, Burris says it's wonderful to see a great tribute to local veterans. He says Bartlesville backs service men and women.
« Back to News