News
Bartlesville
Posted: Mar 28, 2022 10:35 AMUpdated: Mar 28, 2022 10:37 AM
Elusive, a New Comedy Film, Plays at the BCC on April 16th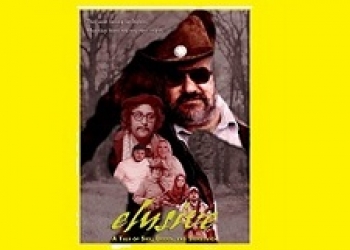 Tom Davis
Come for the Bigfoot jokes. Stay for the father issues.
"Elusive," a new comedy film released by Apollo Tides, will play at the Bartlesville Community Center on April 16th for one night only, following an Oklahoma City premiere on April 1st. It's then scheduled to show at Tulsa's Circle Cinema starting April 29th.
"Elusive" revolves around a delusional documentary filmmaker follows who a shady Bigfoot tracker through the Oklahoma backwoods, encountering quirky locals - with their own agendas - along the way.
"Elusive" was filmed in central Oklahoma in November of 2020, and stars Oklahoma City comedians BradChad Porter and Alex Sanchez, with a supporting role from acclaimed cult director Mickey Reece.
It was directed by Nick Sanford, produced by Steven Patchin and Bartlesville native Chris Butcher, and edited by Andrew McDonald. McDonald and Sanford co-wrote the screenplay.
For those unable to see the film in theaters, it will also be available to stream on the film's official website, StupidBigfootMovie.com, for a $4.69 rental.
The filmmakers are hoping to add to the popularity of the Bigfoot myth in today's current zeitgeist, as well as allow people to use the comedy as a light reprieve from the world's problems.
"All we want to do is make people laugh for an hour and a half and let them forget about all the craziness for a second. That's what we view as our job," says director Sanford. "If you're able to make it to a screening and laugh with everyone, that's great. And if you're unable, it's super cheap to watch on the website. Enjoy it however you can."
Fans can follow Elusive's Oklahoma tour and tomfoolery online.
Instagram: @stupidbigfootmovie
« Back to News