News
Posted: Sep 21, 2022 11:32 AMUpdated: Sep 22, 2022 10:24 AM
Oldies & Goodies Car Show in Dewey on Sept 24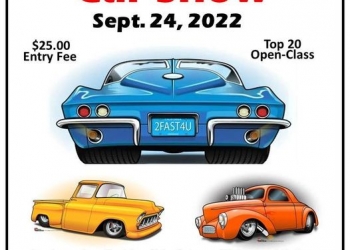 Victoria Edwards
Mark your calendars and spruce up your classic cars for the 35th Annual Oldies 'n' Goodies Car Show to beheld on Saturday, September 24 from 8 am to 3 pm.
There is no pre-registration to bring your car to the show -- just pay the $25 entry fee when you arrive to reserve your spot and park your beauty. Registration begins at 8 am and closes at 11 am. Entry fee includes an event t-shirt and all proceeds from the car show will benefit local charities within the city of Dewey.
There will be an OPEN CLASS judging by members of the Dewey-based group, Oldies-n-Goodies Car Club. Five trophies will be awarded. The HIGH FIVE winner will take home $100 and four runners-up will each receive $50. Emily Case, one of the organizers, said there will also be some special giveaways.
While at the event, enjoy a live DJ, food vendors, and a salute to Veterans at noon.
« Back to News