News
Osage Co.
Posted: Jan 03, 2023 12:44 PMUpdated: Jan 03, 2023 1:18 PM
Osage Co. Commissioners Vote for New Vice Chairman for 2023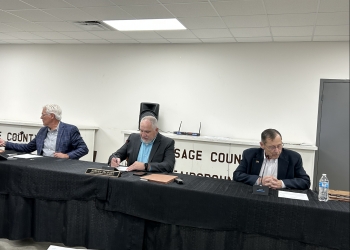 Dalton Spence
The Osage County Board of Commissioners had its first meeting under the new Board on Tuesday.
District two commissioner Steve Talburt was elected Chairman and District Three Commissioner Charlie Cartwright was elected as Vice Chairman for 2023.
One business item was to purchase portable sheep and hog panels and bow gates for the county fairgrounds. Commissioner Cartwright suggested no action and commissioner Piper second the no action and explained why.
The commissioners will meet again Monday morning, Jan. 9th at 10 o'clock in the Women's Building at the Osage County Fairgrounds in Pawhuska. The meeting is opened to the public.
« Back to News