News
City of Dewey
Posted: Jan 03, 2023 7:18 PMUpdated: Jan 03, 2023 7:35 PM
Council Discusses Future of Pickleball in Dewey, More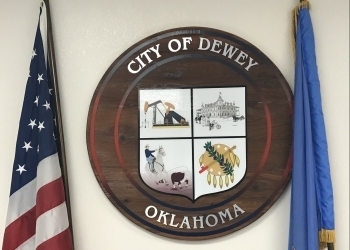 Garrett Giles
The Dewey City Council approves nearly $12,000 for the city's escrow account balance from the 2019-2020 OMAG Workers Compensation Plan.
City Manager Kevin Trease says they want to leave the money in escrow as it could be applied for future payments. He says sales tax collections have been better, so it is always nice to have a little extra money in the bank.
The monies will be in escrow with OMAG. The Dewey City Council did discuss if interest was involved in the decision, but it ultimately made no difference as the item wold pass unanimously on Tuesday night. The exact amount that was approved was $11,951.80.
Later there was discussion on turning old tennis courts at Don Tyler Park into pickleball courts. Trease and Mayor Tom Hays say they spoke with Kumar Krishnan - a pickleball expert out of Bartlesville - who drew up a layout for the space.
But according to Trease, the talks didn't stop with Krishnan. Trease says he met with a fence contractor last week about getting quotes to rehab the existing fencing for the courts. He says they would add fencing as needed.
The space may fit four pickleball courts that could be utilized for smaller tournaments. Mayor Hays noted that the City of Bartlesville would be getting pickleball courts in the future thanks to a General Obligation Bond that passed in recent years. He says the City of Dewey will continue to crunch the numbers to see if they can bring the sport to town.
« Back to News