News
Sports
Posted: Jan 09, 2023 9:42 AMUpdated: Jan 10, 2023 5:00 AM
Commissioners Recognize Longtime Employee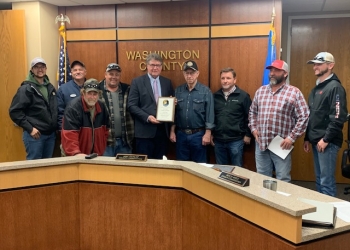 Evan Fahrbach
The Washington County Commissioners recognized a longtime District 3 employee and approved other items during their regularly scheduled meeting on Monday morning.
Member of the District 3 road crew, Garry Ochler, was recognized for his work over six decades with Washington County. Commissioner Mike Dunlap presented Ochler with a plaque and a proclamation at the beginning of the meeting.
Dunlap says Ochler has been an exemplary employee and a loyal servant to Washington County for years.
The commissioners also approved a project agreement between the county and the Oklahoma Department of Transpiration dealing with County Road 4000 over Saunders Creek.
The Washington County Commissioners meet every Monday morning at the Commissioners meeting room at 400 S. Johnstone in downtown Bartlesville.
« Back to News