News
Bartlesville
Posted: Jan 12, 2023 10:34 AMUpdated: Jan 12, 2023 10:34 AM
BAA: "Empowering Strokes" by Artist Aaron Rayner at Price Tower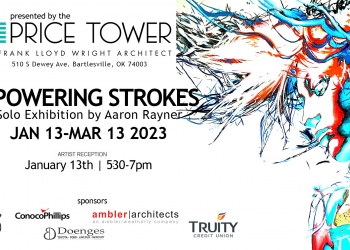 Tom Davis
The Bartlesville Art Association invites you to the opening reception for this show by former Bartian Aaron Rayner -- who has won People's Choice awards at several of BAA's art shows.
There will be an openning reception on Friday, January 13, from 5:30pm - 7pm at the Price Tower Art Center.
"Empowering Strokes" by artist Aaron Rayner focuses on strength and struggle, beauty and resilience – capturing emotion and feeling through mood and message.
Shown in this collection are highlights from the "Heroine" series - a culmination of nearly two years of work with an emphasis on reframing pop-culture, and figures who struggle against challenges and demons, accepting and losing hopes and joy, and press towards the future nonetheless.
The event is free and open to the public.
« Back to News