News
Posted: Jan 14, 2023 6:09 AMUpdated: Jan 14, 2023 6:09 AM
Jenks Sweeps BHS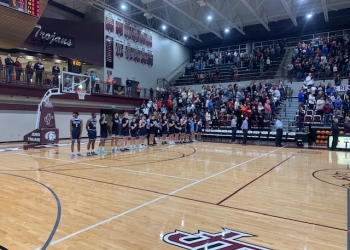 Evan Fahrbach
Bartlesville High was swept on the road at Jenks, as both the Trojan teams beat BHS to spoil the Bruins road trip on Friday night.
On the girl's side first, Bartlesville scored the first basket, but that was its only lead of the game. Jenks would slowly pull away from the Lady Bruins, winning 56-40.
Bartlesville was better on offense than the Bruins were on Tuesday night, but still struggled to make shots. Mikka Chambers was a bright spot. Chambers scored a game-high 24 points and was also great on defense.
On the guy's side it was like a roller coaster. Jenks would hold on to beat the Bruins 70-60. It was the first three minutes of the game that would sink Bartlesville. BHS trailed Jenks 16-0 at the 4:45 mark of the first quarter.
Bartlesville would trail by as many as 20 in the second quarter before things got interesting. The Bruins went on a 24-9 run late in the second through the third quarter to cut the Trojan lead down to three multiple times.
Including on this Caleb Rogers dunk.
However Jenks would weather the storm. The Trojans pushed their lead back to 10 before the midway point of the fourth quarter, and kept the Bruins at arm's reach in the second half.
Both BHS teams next play on Tuesday at Broken Arrow.
« Back to News