Sports » Latest News
Sports
Posted: Jan 08, 2019 6:57 AMUpdated: Jan 08, 2019 7:57 AM
Bartlesville Hoops Split at Jenks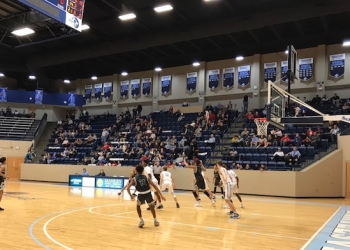 The Bartlesville boy's and girl's teams finally got back in action after Winter Break and produced two good games, with a split evening at Jenks High School.
The Lady Bruins got a come-from-behind 72-59 win against Jenks to improve to 8-2 and win their fifth game in a row.
Bartlesville orchestrated a 29-point swing in the game after the first quarter, when BHS trailed by 16 points (24-8). The Lady Bruins scored 26 points in the second quarter en-route to their highest point total of the season. This one-handed 30-foot pass from Jena' Williams to Erika Gruber started to put Jenks away in the final quarter.
The Lady Bruins are off until Thursday when they will begin action in their first-ever ConocoPhillips Arvest Invitational at Bruin Fieldhouse.
---
On the guy's side, BHS battled on the road against at top-10 team in Jenks, but ultimately fell short 61-54.
BHS trailed by seven at halftime after another low-scoring second quarter, but Bartlesville would rally back thanks to a big third quarter from Jaylin Oliver.
The Bruin lead would be brief. Oliver had five three-pointers on the night. The Bartlesville guys drop to 3-4, they will have another daunting task on Tuesday, as BHS travels to Booker T. Washington to take on the Hornets.
Booker T. is 8-1 and ranked at No. 3 in the state.
Boys only game on Tuesday at Booker T. 7:00 PM tip on KWON – AM 1400 and FM 93.3.
« Back to Sports