Sports » Latest News
Sports
Posted: Jan 08, 2018 7:42 AMUpdated: Jan 08, 2018 8:42 AM
Bruins Finish 2nd in ConocoPhillips Arvest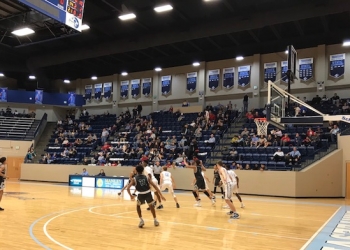 The championship game of the ConocoPhillips Arvest Invitational was a worthwhile matchup to round out a solid weekend of basketball at Bruin Fieldhouse.
The Bartlesville Bruins nearly pulled off a nice upset over Carl Albert in the finals. The Titans held on for a 67-64 win.
Bartlesville led the entire first half, before Carl Albert came back and took the lead early in the third quarter. The teams would go back and forth in the fourth quarter. Bartlesville got an acrobatic bucket and the foul from Tayo Dina that would put it back within two.
BHS had a possession down by three at the end of the game, but Dina's three-pointer was blocked and time expired. It appeared that Dina may have gotten fouled on the attempt, but there was no whistle.
That is the fourth tournament title in a row for Carl Albert, the No. 2 team in 5A.
The Titans have two future NCAA Division-I guards in their lineup. BHS drops to 4-5.
Both the Bartlesville teams are next at Broken Arrow on Tuesday night for another Frontier Valley Conference double-header. We will carry those games on KWON - AM 1400 and FM 93.3.
« Back to Sports