Sports » Latest News
Sports
Posted: Jun 27, 2018 7:31 AMUpdated: Jun 27, 2018 8:32 AM
Bruins Finish Up 7-on-7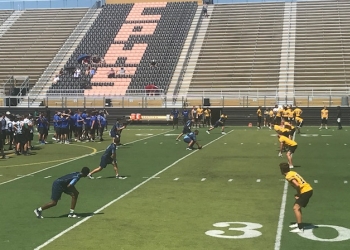 The first 7-on-7 passing league under Lee Blankenship was a success, but the Bruins don't want that to be the end of positives in 2018.
Bartlesville High football wrapped up its final 7-on-7 passing league games on Tuesday afternoon in Sand Springs. The Bruins continued to do well, Tom Beard, Gerald Gray, Shane Simpson and DeAndre Young all found the end zone.
BHS spent the majority of the time with Noah Sunday as quarterback with the No. 1 one offensive guys, but Ben Winters worked his way in, too. BHS head coach Lee Blankenship talk's about Tuesday's performance.
Bryce Gulledge and Nick Tessier are two newer names who also stood out. Tessier had an interception and a touchdown, while Gulledge caught a touchdown pass from Winters. Bartlesville High basketball star Jaylin Oliver was also on hand. Blankenship says he thinks his group of skill players has a chance to be special this fall.
The Bruins will take it easier over the next week before a padded camp begins later in July.
We will have more on Bartlesville High football as the offseason rolls on.
« Back to Sports