Sports » Latest News
BAAB
Posted: Jun 19, 2018 9:50 PMUpdated: Jun 19, 2018 10:50 PM
Championship Set After Thrilling BAAB Day Two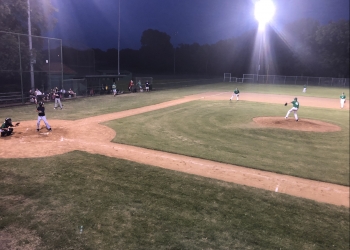 Day number two was full of excitement at the Bartlesville Area Amateur Baseball tournament. Top-seed Nowata needed a late comeback effort to top Oilfield Pipe & Supply to advance to the championship after a 9-8 victory.
The Ironmen used a hidden ball trick and threw out a runner stealing to seal the victory. James Ewers went three dazzling innings in relief to earn the victory.
Oilfield then trumped United Linen 5-4 to redeem themselves and punch a ticket to the championship after the loss to start the day. United Linen pitcher Ridic Martin struck out 16 in a phenomenal start. He didn't allow his first hit until the fifth inning. However, the hits came in bunches in the fifth for Oilfield as the floodgates opened. Zach Nicholson broke the 1-1 tie with this RBI single.
Oilfield tacked on four to make it 5-1. United Linen scrapped for three runs in the seventh but Nicholson shut the door on the one-run victory after escaping a bases-loaded jam with no one out.
Oilfield will meet up with Nowata in the championship game. Nowata, at 2-0 needs to win just once to take home the title. Oilfield would need to win two times to be crowned champion.
99.1 FM KPGM will have coverage of the championship starting at 6 p.m. on Thursday.
« Back to Sports