Sports » Latest News
Sports
Posted: Feb 08, 2018 7:15 AMUpdated: Feb 08, 2018 8:15 AM
Dina's Emergence Helping the Bruins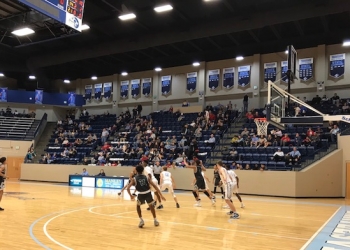 Both Bartlesville High basketball teams are back after it on Friday evening at home against Jenks.
It is the first of three Frontier Valley Conference double-headers at home that will round out the regular season for BHS. The Bruin boys are still looking to capture some momentum going into the postseason in a couple weeks. Bruin junior Tayo Dina has been instrumental the past month.
Over the past five games for the Bruins, Dina is averaging 19.2 points per game, shooting 53 percent from the field, 41 percent from three-point range, and taking down nearly seven rebounds per game. Bartlesville head coach Clent Stewart talks about Dina's emergence.
The BHS boys have beaten Jenks twice already this season. The Lady Bruins will try to improve to 21-0 on Friday.
More on the Jenks double-header on Friday.
« Back to Sports