Sports » Latest News
Dewey Basketball
Posted: Feb 11, 2020 9:39 PMUpdated: Feb 11, 2020 10:39 PM
Doggers Fall to Chelsea in Final Seconds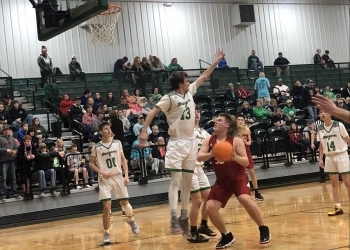 A short-handed Dewey team dropped a Northeast Valley Conference game to Chelsea on Tuesday night, 54-52. Two free throws in the final 20 seconds broke a tie and gave Chelsea the eventual victory. Dewey's Kaleb Hull missed a three-pointer at the buzzer that would have won the game. Prior to that, Hull knotted the game at 52 with this improbable shot.
Hull finished with 12 points and was a force on the offensive glass as well. Dewey struggled in the first half but it was able to take a 37-30 lead after three quarters. Dewey went on a 7-0 run over a four-minute stretch to end the period. However, Chelsea owned the final quarter. Kobe Reed scored 24 points on the night, all in the second half including the go-ahead free throws.
Dewey drops to 3-17 on the season. This is the first time the Doggers have lost to Chelsea in over four years. Dewey hosts Caney Valley (OK) for its next game on Friday.
In the first the Lady Doggers won 65-45 to pull even at 10-10 on the season.
« Back to Sports