Sports » Latest News
Sports
Posted: Jul 08, 2019 7:12 AMUpdated: Jul 08, 2019 8:12 AM
Ft. Smith Wins Winget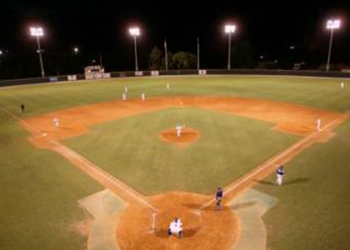 The 60th annual Glen Winget Tournament wrapped up on Saturday with an all Arkansas final, as Ft. Smith defeated Mt. Home 12-3 to take home the title.
Games on Saturday mostly went off without a hitch at Bill Doenges Memorial Stadium, there was very light and scattered rainfall in the late afternoon and evening that did not bother play.
The semifinals and championship games were the only three contests played on Saturday, after more rains on Friday made the Oklahoma Wesleyan practice facility unplayable for the rest of the weekend.
That puts a cap on the 2019 Winget, which saw no games from the home standing Doenges Ford Indian's played at Bill Doenges Memorial Stadium thanks to the OSSAA Dead Period rule. The OSSAA was out of the office last week for the holiday and could not be reached for comment.
Bartlesville is back in action with three scheduled games this week.
The Indian's are slated to host Ft. Smith, Arkansas tomorrow at noon for a single game, and then have Three Rivers into town on Wednesday for a double-header at 6:00 and 8:00. All those evening games will air on KWON – AM 1400 and FM 93.3.
« Back to Sports