Sports » Latest News
Sports
Posted: Jun 25, 2018 8:12 AMUpdated: Jun 25, 2018 9:13 AM
Indian's Game Nixed on Monday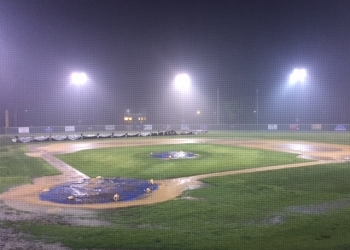 Rain across the state has canceled two Doenges Ford Indian's games this week.
Monday's 2:00 PM scheduled double-header against Okmulgee has been nixed because of rain. Nearly 2.5 inches of rain fell in Washington County over the weekend.
The Indians were in Enid this past weekend. Bartlesville went 1-2 in three games on Friday and Saturday. The Indian's were scheduled to play Three Rivers again on Sunday afternoon, but that contest was nixed because of inclement weather in the Northwest Oklahoma area.
Saturday saw the Indian's split two games, beating Three Rivers 3-1, then losing to Enid 4-3. That loss to the Majors was a tough one for Bartlesville – the Majors scored two runs in the bottom of the seventh inning to win it. The Indian's had led 3-2 entering the final frame. The lead came on a Noah Yearout single in the sixth.
However, that one-run lead wouldn't hold.
Bartlesville is next in action against Okmulgee again for a 6:00 PM first pitch on Sunday - July 1. That is the final tune up for the Indian's until the Glen Winget Memorial Tournament, which will start on Wednesday, July 4.
« Back to Sports