Sports » Latest News
Sports
Posted: Jul 02, 2018 7:36 AMUpdated: Jul 02, 2018 8:36 AM
Indian's Sweep Okmulgee - Ready for Winget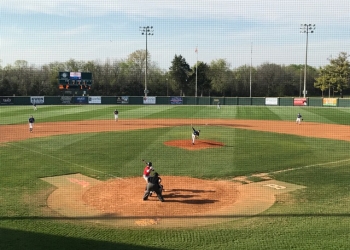 The Doenges Ford Indians will head into Wednesday's Glen Winget Memorial Tournament on a hot streak.
Bartlesville swept Okmulgee in two games on Sunday evening at Bill Doenges Memorial Stadium. The Indian's run ruled the Twins in game one, winning 8-0, then came from behind to beat them 8-7 in a walk off victory in game two.
In game one, Bartlesville (14-9) slowly chipped away at Okmulgee. The Indian's scored three consecutive runs off bunts to take a 4-0 lead in the third inning. Bartlesville would eventually run-rule the Twins in the fifth after a John Cone single gave the Indian's their eighth run of the ballgame.
Braden Beasley would pick up the win in game one. Beasley and Randsom Jones combined to throw five scoreless. Beasley and Andrew Harden both tripled in the game. Harold Borg had two RBIs.
In game two, the Indian's fell behind 6-1 before mounting a spectacular comeback.
The Indian's would battle back within two runs, and tie it in the sixth. John Cone pitched a scoreless top of the seventh, and then Harold Borg would end the game with a walkoff single.
The Indian's had loaded the bases with no one out prior to the game-winning Borg RBI.
Bartlesville will next be in action on Wednesday evening for game one of the Glen Winget Tournament. A 7:00 PM scheduled first pitch against Hillcrest, with fireworks to follow in downtown Bartlesville.
« Back to Sports