Sports » Latest News
Sports
Posted: Jul 05, 2018 7:24 AMUpdated: Jul 05, 2018 10:20 AM
Indian's Win Again - 1-0 in Winget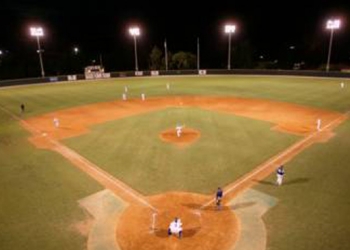 The Doenges Ford Indians are off to a hot start in their own Glen Winget Tournament.
The 59th annual Glen Winget kicked off on Wednesday morning in downtown Bartlesville, but it was the Indians who ended day one of the tournament with a bang - quite literally.
Bartlesville topped the Hillcrest Merchants 8-1 for an opening round victory.
The Indian's (15-9) did it with great pitching from Braden Beasley, Randsom Jones and Kyler Hancock – who combined to allow only four hits over seven frames. They struck out 11 and walked four.
Offensively, Bartlesville started early and ended on a high note.
Leading 4-1 into the sixth inning, the Indians pounced for four insurance runs to pull away for good. Hancock also helped out with his bat, this triple blasted to the wall in left scored two of the four Indian runs in the sixth.
The Indians will next face the Wichita Aviators on Thursday night. A 7:00 PM scheduled first pitch on KWON – AM 1400 and FM 93.3. It is possible that the game will again start later than 7:00 PM because of the tournament format. (Wednesday's game started at 8:15 PM)
The Aviators are 0-1 in the tournament after falling to Mountain Home, Arkansas 11-0 on Wednesday.
---
Scores from Wednesday at the Winget:
Enid Plainsmen: 10 - United Linen Braves: 1
Ft. Smith: 9 - Branson: 2
Wichita: 0 - Mountain Home: 11
Enid Majors: 11 - Springfield Kickapoo: 3
Hillcrest Merchants: 1 - Doenges Ford Indians: 8
---
Winget Schedule For Thursday:
11:00 AM - United Linen Braves vs. Branson, Missouri
1:00 PM - Mountain Home, Arkansas vs. Enid Majors
3:00 PM - Hillcrest vs. Enid Plainsmen
5:00 PM - Kickpoo vs. Ft. Smith, Arkansas
7:00 PM - Doenges Ford Indians vs. Wichita - (Broadcasted on KWON)
« Back to Sports