Sports » Latest News
Nowata Football
Posted: Jul 02, 2018 7:54 PMUpdated: Jul 02, 2018 8:54 PM
Ironmen Grooming Future with Talented Freshmen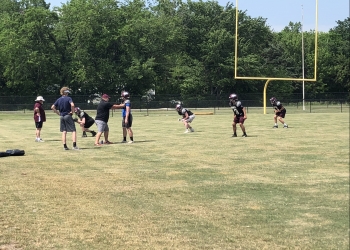 The Nowata Ironmen had a strong reliance on underclassmen in 2017. Most of those players from last year's team will still be in prominent roles with an extra year of experience under their belts.
Despite this the Ironmen still hope to groom a very talented incoming freshman class. Nowata head coach Bob Craig says they have eight or nine freshman that participated in the offseason program and they all made great strides just by being present.
Craig pointed to Brayden Humphries and Emmett Sells as players that have a chance to make an impact right away. Sells was impressive during passing league seeing time behind returning starter Skylar Thornton at quarterback.
The Ironmen are resting this week for the Fourth of July but will ramp things up in preparation for the fall shortly after the holiday.
Nowata opens the season on August 24.
« Back to Sports