Sports » Latest News
Sports
Posted: Jun 07, 2018 7:06 AMUpdated: Jun 07, 2018 8:06 AM
Jarvis Sees Opportunity to Grow with Bruins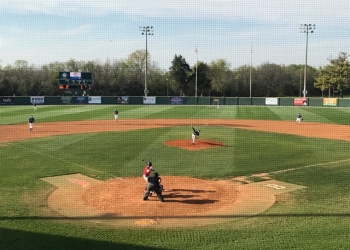 Bruin baseball has a long history of success, and it may be getting back to its roots with a new head coach.
Austin Jarvis will take over the Bruin baseball program in 2018-19 after former longtime head coach Spence Rigdon took the Athletic Director's job at Collinsville. Jarvis comes to Bartlesville from Ada, where he won 23 games in just one season down south.
As for his team next year, Jarvis didn't know too much. He says he took the job with a focus on long-term success at Bill Doenges.
Jarvis played baseball for one season at Oklahoma Wesleyan University and remembered quite a bit about the town and Bill Doenges Memorial Stadium. Jarvis talks about the facilities at his disposal.
Jarvis said he would be back and forth between Bartlesville this summer with his summer baseball team and getting settled for the upcoming school year.
« Back to Sports