Sports » Latest News
Sports
Posted: Jan 11, 2018 7:03 AMUpdated: Jan 11, 2018 8:03 AM
Lady Bruin - Bruin Swimming Still on a Roll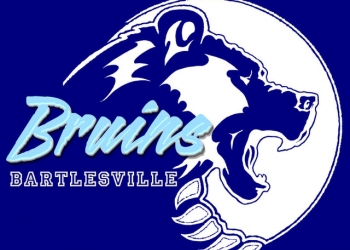 Basketball isn't the only winter sport that is starting to heat up in the New Year - swimming is starting to get serious at Bartlesville High.
The Lady Bruins and Bruins had their Frontier Valley Conference meet at the Jenks Aquatic Center earlier this week, and both teams fared well. The Lady Bruins took first while the Bruin boys finished second behind Jenks.
That was the second-to-last competition before regionals this season for both the swim clubs. They will host a senior night event in a couple of weeks, before postseason play begins in early February. BHS head swim coach Chad Englehart talks about what he wants to work on over the next four weeks.
Senior night will be Jan. 23 at the Phillips 66 Aquatic Center – BHS will host both Bixby and Owasso for the event.
The Bartlesville girls will be looking for their fourth straight state title when the postseason comes around next month.
« Back to Sports