Sports » Latest News
Sports
Posted: Feb 08, 2018 5:10 PMUpdated: Feb 08, 2018 6:14 PM
Lady Bruins Host Regional - Boys to BA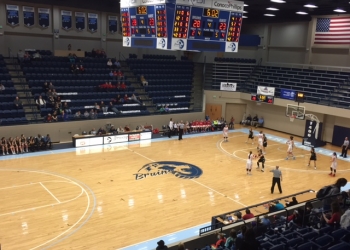 Both the Bartlesville High basketball teams know where they are headed in the OSSAA 6A playoffs.
The OSSAA released the regional seedings on Thursday afternoon.
The Bartlesville girls are hosting a regional. The Lady Bruins will play Muskogee on the first round at 8:00 PM on Thursday, Feb. 22. The other two teams in Bartlesville are Ponca City and Edmond Deer Creek. The winners of BHS-Muskogee and Deer Creek-Ponca games will play in the regional title game on Saturday, Feb. 24 at 1:30 PM. All games at Bruin Fieldhouse.
Meanwhile, the Bruin boys will travel to Broken Arrow. BHS will take on Stillwater in the first round at 6:30 PM on Friday, Feb. 23. Broken Arrow hosts Ponca City in the game opposite the Bruins and Pioneers. The BA Regional Championship will take place on Saturday, Feb. 24 at 7:00 PM.
Both Bartlesville teams have already played their first-round opponent. The Lady Bruins swept Muskogee in Frontier Valley Conference play, winning 60-23 and 66-42. The Bruin boys topped Stillwater in the ConocoPhillips Arvest Invitational 51-48.
Both teams have three home games to end the season. Those games, along with the playoff contests will be aired on KWON - AM 1400 and FM 93.3.
« Back to Sports