Sports » Latest News
Nowata Basketball
Posted: Dec 03, 2018 10:05 PMUpdated: Dec 03, 2018 11:10 PM
Nowata Drops Hewitt Tournament Opener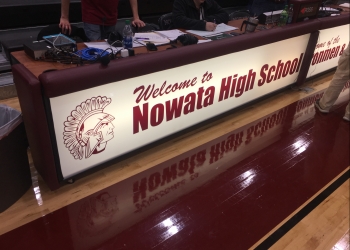 Nowata fell on Monday night in an area rivalry game with Oologah in the first round of the Ty Hewitt Memorial Tournament. The Mustangs led from start to finish to top the Ironmen, 73-61.
The Mustangs cruised out to a 20-10 lead after the first quarter. Nowata turned the ball over 12 times in the opening period. The Ironmen cleaned things up considerably in the second quarter as they cut the gap to 37-30 by the halftime break.
The Ironmen made it a four-point game early in third quarter on this bucket from Mark Price.
That was one of four three-pointers from Price in the game. He paced the Ironmen with 20 points. However, Oologah would kick it into gear from there. The Mustangs responded with 16-6 run over the next five minutes. The Mustangs lead expanded to 18 points early in the fourth quarter.
Nowata made one final run late in the contest but couldn't get the deficit below nine points. The Ironmen drop to 3-2 on the season. Nowata will await the loser of Tuesday's Commerce-Mannford game in the consolation bracket.
The Lady Ironmen lost to Oolagah, 48-12. Both teams will return to action on Friday evening in a doubleheader starting at 7 p.m. as tournament play continues.
« Back to Sports