Sports » Latest News
Nowata Football
Posted: Jan 05, 2018 9:58 PMUpdated: Jan 06, 2018 7:14 AM
Nowata Falls In Heartbreaker To Caney Valley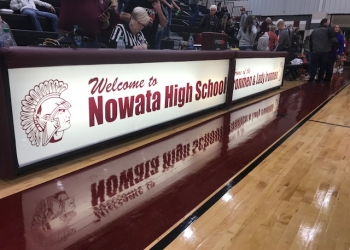 The Ironmen's tendency for close games continued on Friday night as they fell to Caney Valley, 58-56.
Nowata played tough defense early and held the ususally quick-starting Bullpups to 12 first quarter points. The Ironmen struggled on the offensive end as well going the entire first half without making a three-point shot. Despite this Nowata led 26-24 at halftime.
Zen Callahan turned it on out the locker room after a slow first half. Callahan hit four three's in total in the second half for a team-high 20 points on the night.
Caney Valley's ability to convert free throws down the stretch gave them the advantage going in to the final miunte. The Bullpups held a two-point lead when Cam Melciori hit a wild layup high off the glass to make it a two-possesion game at 58-54.
Nowata's comeback attempt would fall short after an illegal screen was called on one of its final possesions.
The Lady Ironmen saw defeat as well, 44-30. Kennedy Downing had 19 points in a losing effort.
« Back to Sports