Sports » Latest News
Dewey Basketball, Nowata Basketball
Posted: Dec 01, 2018 12:34 AMUpdated: Dec 01, 2018 1:34 AM
Nowata Takes Down Dewey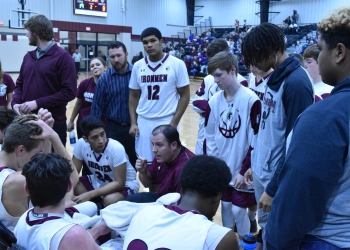 t was an exciting affair that went late in to the night on Friday as Nowata defended its home court to knock off Dewey, 65-52. A lengthy break for a tornado watch paused the game at the beginning of the fourth quarter, but played resumed and the Ironmen were the victors in the rivalry battle.
Mark Price stole the show once again for Nowata. After totaling 22 points in a win over Hominy on Tuesday, Price tallied 28 points to lead the Ironmen. Price made his money from the free throw with 13 makes. He also knocked down four three-pointers including this one to put the Doggers away late.
Nowata used a 13-4 run to close out the first quarter to put distance between themselves and the Doggers. Dewey cut the lead to single digits by halftime. Nowata led 54-43 when a tornado warning hit Northeast Oklahoma and the game was put on hold for nearly an hour. The entire gym was evacuated while all involved sought shelter.
The game resumed with Nowata going on 6-0 run to stretch the lead to 17 points, which proved too much for the Doggers to overcome. Hayden Thornton scored 20 points and Cayden Baughn had 19 points to lead the Doggers.
The Doggers are now 0-2 and will play Vinita on Monday in the Adair tournament. Nowata is now 2-1. The Ironmen play Welch on Saturday before opening up the Ty Hewitt tournament on Monday against Oologah.
« Back to Sports