Sports » Latest News
Nowata Basketball, Oklahoma Union Basketball
Posted: Jan 14, 2020 10:03 PMUpdated: Jan 14, 2020 11:03 PM
OKU Stays Undefeated After Hard-Fought Win Over Ironmen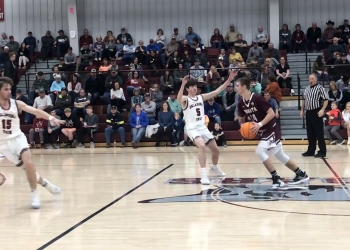 Third-ranked Oklahoma Union edged out No. 19 Nowata in a chaotic battle on Tuesday night, 72-62. The Cougars made Nowata's offense uncomfortable for long stretches of the game and several fastbreak buckets off turnovers titled the game for OKU. Three double-figures scorers for the Couagrs helped them to win their 12th straight game to start the season.
Early on things were level with teams knotted at 10 apiece after one quarter. The Cougars woke up with a strong 27-7 run in the second period to create some separation early. Dillon Ellis had eight first half points and was a spark plug during the Cougars' run. This acrobatic layup built the OKU lead.
The Cougars led 47-28 at halftime. When it looked like all was lost Nowata responded. The Ironmen put themselves back in striking range with a 13-3 run out of the gate in the second half. Mark Price led the resurgence starting with this and-one jumper.
Price would finish with a game-high 25 points. The Ironmen would reduce the lead to 64-55 in the fourth quarter but would come any closer. Nowata's eight-game winning streak is snapped as the team falls to 10-2.
Jace Hollingshead led the Cougars with 19 points. Jace Gilmore and Kohlsyn Gibson were also instrumental in the victory. OKU is now 12-0 on the season.
« Back to Sports