Sports » Latest News
OKWU basketball
Posted: Feb 05, 2019 4:17 PMUpdated: Feb 05, 2019 5:17 PM
OKWU Back at No. 1 in the Polls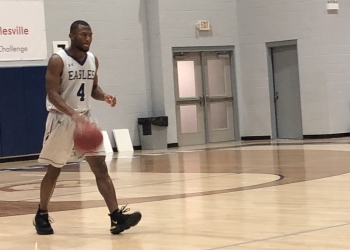 The Oklahoma Wesleyan men's basketball team is back at No. 1 in NAIA Coaches' Top 25 Poll. The Eagles received nine of 12 first-place votes in the poll. OKWU briefly dropped to No. 2 in most recent update to the polls. The Eagles have won eight straight games since their lone loss to Southwestern on Jan. 7. Eagles head coach Donnie Bostwick says the team learned to stay hungry after the loss.
At 25-1 overall and 19-1 in Kansas Collegiate Athletic Conference play, OKWU has clinched at least one home game in the conference tournament. The worst the Eagles could do is second overall in the regular season standings.
The Eagles will pay Sterling College on Wednesday. OKWU knocked off the Warriors, 81-64, in the first meeting.
The Lady Eagles will look to bounce after a loss to Avila on Saturday. OKWU is engaged in a battle for seeding in the KCAC tournament. The Lady Eagles are currently in sixth place.
OKWU will face quite a challenge in the first game of Wednesday's doubleheader with the No. 17 Lady Warriors coming to town looking for the season sweep.
Oklahoma Wesleyan versus Sterling from the Mueller sports Center in Bartlesville. Tipoff is set for 6 p.m. Radio coverage can be heard on 99.1 FM KPGM.
« Back to Sports