Sports » Latest News
OKWU Soccer
Posted: Aug 09, 2019 2:59 PMUpdated: Aug 09, 2019 3:59 PM
OKWU Men Tabbed as Top Team in KCAC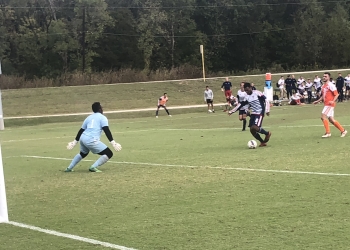 Fall sports are ramping up at Oklahoma Wesleyan University and that means the much-maligned men's soccer team will get another chance to show its prominence. The Kansas Collegiate Athletic Conference preseason poll dropped on Friday and the Eagles were tabbed as the top team. OKWU received 10 of 13 first-place votes.
Just behind OKWU was Kansas Wesleyan, the team that shocked the Eagles to snag the 2018 KCAC regular season championship. The Coyotes also won the conference tournament last season.
The Eagles have proved themselves as one of the top teams in the NAIA consistently after an appearance in the Final Four in 2017 and the Elite Eight last year. OKWU went 20-4 in the regular season.
OKWU returns two First-Team NAIA All-Americans in 2019. Stefan Cvetanovic and Stefan Lukic combined for 43 goals and 29 assists last year. Julio Belo is was named a Second-Team All-American last year as well. The Eagles open up the season with a non-conference home game against Mid-America Christian on August 17.
« Back to Sports