Sports » Latest News
OKWU basketball
Posted: Jan 10, 2018 9:46 PMUpdated: Jan 10, 2018 10:46 PM
OKWU Sweeps Bethel at Home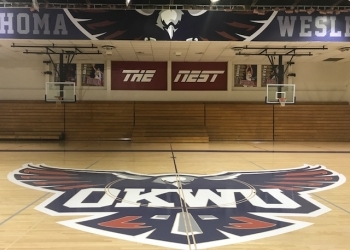 Both Oklahoma Wesleyan basketball teams continued their success in the New Year with a sweep over Bethel College on Wednesday night.
First off in the women's game the Lady Eagles let the Threshers hang around for a while before pulling away late to get another win. Bethel came in toward the bottom of the KCAC standinsg but they gave OKWU a scare as they took a 33-27 lead into halftime.
Out of the break the Lady Eagles came on strong as Tiffany Rieger had another solid second half dropping eleven of her fifteen points. This and-one bucket added to the Lady Eagle lead.
OKWU took a three-pointlead in to the final quarter and were able to gut out a tough win down the stretch, 63-57.
Freshman Danae Goodwin led all scorers with 16 points.
The Lady Eagles are now 14-5 overall and 8-3 in the KCAC. OKWU is now in three-way tie atop the conference standings with Tabor and Friends.
On the men's side it was rout from the beginning. The Eagles set out on a blistering pace and took a double-digit lead in the game's first five minutes. Jake Feickert knocked down a trio of three-pointers in the first half and the Eagles led 50-35 at the break.
OKWU had plenty of highlight reel plays on the night including this alley-oop from K.J. Malveau to Isaak Rowe.
Bethel hung around for the first ten minutes of the second half before Breiman Alexander took the game in to his own hands. Alexander lit it up for 18 points in the second half and finished with a game-high 23 coming off the bench. This is third time Alexander has gone for more than 20 points in conference play.
OKWU had 11 players take the floor in this contest and ten of them tallied points. This depth helped the Eagles extend the lead late. Final score—92-65.
The Eagles jumped over .500 in the KCAC at 6-5 and stand at 13-6 overall.
Both teams will be in action for another doubleheader on Saturday against McPherson. Games can be heard on 99.1 FM--KPGM starting at 3 p.m.
« Back to Sports